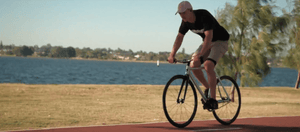 New Video! Covered In Chrome
Featuring the new 2018 JRI Townie and OilSlick builds, Covered in Chrome is the story of two riders meeting for a late night mash through the streets of the Perth CBD.
Showcasing the Perth skyline and Perth-based JRI test riders Blake and Josh, the clip was shot entirely from an Uber and is set to Brisbane alt-rock band Violent Soho's "Covered in Chrome" (seriously awesome band). As a back story, when the JRI team initially developed the video concept in closed late-night production meetings, the lyrics to the song were proposed by Dallas Royal, a Dunsborough, WA-based band/media consultant as possible inspiration for a storyline. Organically augmented by exercises and activities designed to promote an awareness-enhancing atmosphere the team went with the consultant's recommendation as it became increasingly apparent that there were actually no other viable alternatives.
Hopefully it inspires you to get out and ride… Enjoy!
Will I drive out in the night, Never come back in a mighty fright,
Stay out longer while I can, Picking fossils in the sand,
I admire all the games, Another asshole lights the flame,
Rusted clotheslines in the sun, Noise control, I've sunken out,
With smile the greatest written smile,  No one to complain,
Written in chrome and gore it's all the same...
- Violent Soho
---
1 comment