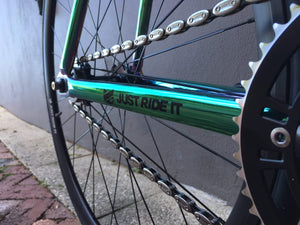 The New 2018 Bicycle Range
They've arrived, they're in stock and they're ready to go… Team JRI's new sticks for 2018!!! 
The design team at JRI is pleased to announce 3 distinctive new builds – introducing the Townie, OilSlick, and Dark Matter. Inspired by a modernist industrial design ethos ideally suited to the minimalist aesthetic often associated with trackbikes and singlespeeds, this year's rides sport functional and utilitarian commercial grade finishes that combine design and manufacturing clearly reminiscent of the early 20th Century Bauhaus movement. To clarify, they look like something forged by Sauron in the fires of Mount Doom and wouldn't seem out of place leaning against a milk crate in Thor's garage.
The Townie and the OilSlick share similar DNA both having been derived from JRI's 2017 Evolution model. The Townie sports a utilitarian and raw aluminum frame clearcoated for protection that has a timeless appeal while the OilSlick takes full advantage of thin film interference light diffusion characteristics to create the one of the most stunning visual effects we have ever seen in a finish. A metallic finish that seemingly changes depending on light direction and source, we clearcoated this frame as well to preserve and protect this unique eye-catching cosmetic treatment. Both models check in at just over 7kg, featuring stiff and efficient track-inspired frames. Their sleek and modern design uses a mild "low pro" geometry equally at home on the street and at the track. Both models include carbon forks and steering tubes, custom cut seatposts, and high grade components including Shimano Nexus track chains, bladed spokes and high flange hubs. Not to be confused with inferior cromoly/hi-tensile steel products sporting a similar finish, JRI's 6061 aluminium alloy frame is very light, stiff and highly-corrosion resistant resulting in a very nimble ride that will provide years of enjoyment. 
A nice counterpoint to the shiny bling of the Townie and OilSlick, the DarkMatter features a subdued matte black finish that should appeal to those with more understated tastes (or a utility belt). The matte black "stealth" finish has been a bike industry staple for a few years now but there's no sense arguing its appeal. Track-capable but optimized for the road, the tight but not excessive geometry strikes an appealing balance of handling and comfort so whether you're running to the shop, mashing empty midnight streets or pulling a few g's at the velodrome the only thing the Dark Matter will leave you wanting more of is time in the saddle.  Featuring bladed spokes and JRI's new pista wheels, the DarkMatter is designed and built to provide years of reliable ripping.
If you're looking for a set of pipes this Summer, grab one of these distinct builds and get noticed!!!
---