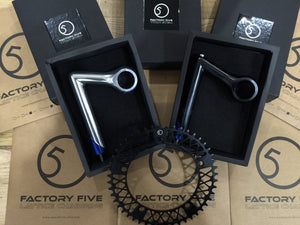 Factory Five - Now Available!
The good guys over in Shanghai sent us some new goodies! We're happy to say we are now stocking Factory Five Lattice Chainrings and Titan Stems. To begin with we've brought in a few select items of our own liking, but we plan to expand this range in time. If there's something you need but can't see, get in touch! 
You can check out the chainrings here and the stems here.
In other news, Literal Bikes coming to JustRideIt stores soon 
---