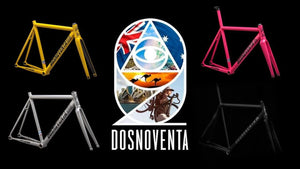 Dosnoventa is only weeks away!
Dosnoventa is only weeks away!
All of us here at Just Ride It are very excited to announce our pre order shipment of Dosnoventa Frame Sets are just around the corner!
To those who have committed, get excited as you will be apart of an amazing movement that can only be seen to be fully appreciated.
In October of 2010, Dosnoventa was founded in the city of Barcelona, as the result of the interest of two old friends and well-known city riders, lovers of quality products and with a large professional experience in the world of the fixed wheel riding.

The synergy that bonds them is what spurs them to the production of bikes, for themselves and for their friends, with the mission of offering their crew a great product using the best materials, with a very studied aesthetics, geometry and image, built by the best craftsmen but with a very competitive price.

After the first frames were delivered, the brand quickly became a cult object and a local reference. Since then the Dosnoventa family won't stop growing: a team of great riders was created to represent the brand, three models of frame came on to the market,... But above all, a superb team working behind scenes for this project, sharing a lifestyle and a love for the urban culture, thanks to which Dosnoventa is now set up an renowned for its quality, style and authenticity.
We here at Just Ride It are continually striving to improve our footprint within the extended Fixed Gear community and with the addition of Dosnoventa into our artillery,  we believe we are slowly becoming a market leader. 
Be sure to keep up to date through our social media avenues for any new launches and product arrivals.
In the meantime, sit back and enjoy the latest addition to the ever growing and impressive video releases from over the world from Juan and the team below!
https://vimeo.com/user7105911/videos
Happy riding from the JRI Team
---