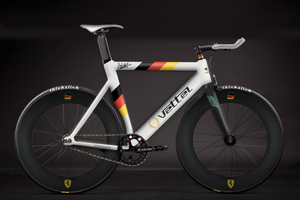 Vettel Comes Back!
Vettel Goes for 3 in a Row!!!
Melbourne is abuzz this week with Formula1 fever eagerly anticipating the 34th running of the Australian Grand Prix as part of the F1 Championship Series set for this weekend.  
As the world's premier autosports circus comes knocking, once again applying its annual equivalent of an automotive bitchslap to the serene inner-city neighbourhoods of our fair city, the Team at JRI ponders the question on every punter and member of the TAB furniture club's mind - will Sebastian Vettel, JRI's favourite driver and three-time AusGP winner (2011, 2017, and 2018) make it three in a row to claim his fourth AusGP crown.  If history is any indication, the answer is a resounding yes…so grab your calculator and try to keep up…
...Careful analysis by the quantitative specialists deep in JRI HQ's top-secret egghead incubation labs have revealed a strong correlation between Mr.Vettel's professional driving achievements in this country and his consumption preferences - specifically, the propeller-heads at JRI have come up with a hypothesis that suggests the following:  whenever Sebastian (Oh but we ARE on a first name basis…) purchases a JRI custom bicycle from us, he wins that year's Grand Prix event.  
Consider the data... in 2017, our fast-driving friend purchased a JRI build to conduct his track inspections and promptly won the 2017 Australian Grand Prix.  In 2018 last year, our custom design team was again contacted by Sebastian with a design mandate for a German-themed custom treatment…followed shortly thereafter by another Australian GP top podium finish to make it 2 in a row and 3 overall.  Well, whether you're a superstitious, tea leaf-readin', horseshoe carryin', voodoo-pimpin' witchdoctor or a Mathematics PhD specializing in Probability at JustRideIt's top-secret research facility, it's hardly surprising to conclude that our fearless hero might consider picking up a little somethin' somethin' to keep the trend alive as he goes for 3 in a row!!!… hardly surprising?, in fact it's about as obvious as Lewis Hamilton at an Alabama go-kart meet.
Due to delays in the NBN being delivered to Fitzroy, the design team was contacted by our top secret "Bat phone" Vettel hotline earlier this year - a demanding mandate was delivered in precise German… "I'm going to pop round to the new shop when I'm in town and bring some donuts."  Unfortunately, due to an imperfect grasp of the German language, our Head Designer interpreted this directive as "Take the best thing you've ever done, do it better and cover it with hexagons."  The result is possibly the most kick-a$$, attention-commanding human-powered wurst-rocket we've ever created.  
The unique cosmetic treatment acknowledges its pilot's Teutonic roots, while the distinctive trademark hexagons highlight Sebastian's personal taste, our lack of understanding of German and a subtle commemoration of that basic structure of organic chemistry - the benzene/6 carbon ring.
 It is a design that is truly worthy of the reputation of its chosen owner, regardless of the fact that he forgot the donuts.  Keep an eye out this week at the Albert Park F1 track or on the streets of our fair city and you may get a glimpse of next-level Australian engineering excess as Sebastian is known to have a preference for bicycles to get around town… and if you see him, wish him G'day and G'Luck this weekend as he goes for a THREE-peat!!!  
---