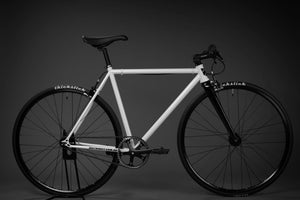 Birth Announcement!!!: Cujo 2019
Birth Announcement!!!: Cujo 2019
In the world of product design, it's a very tricky exercise to predict trends and exactly what products and features will entice consumer interest.  It's a lot easier to stick with what you know and simply design something you would want yourself - and if it appeals to others… win-win!  Such was the original design mandate behind 2018's monstrously popular Cujo Pro, a somewhat utilitarian build featuring a track geometry and disruptively simple component collaboration that begged owners to pimp their ride.  
The design team's goal of creating a sporty ride that only a track bike could deliver but at an all-access, street-level price was evidently shared by many.  Over the last year, inspired riders sent us photos of cross-bred Cujo builds combining different design elements that resulted in dedicated track bikes, BMX-inspired flatland freestyle rides, locked-down flatbar commuter builds, neighbourhood pub transport and even an electric version. 
2019's litter of Cujos creates even more possibilities.  The JRI design team focused on the details and incorporated some refinements that will raise the quality of every build, regardless of variation.  Aside from three exciting new colors, the new Cujos sport tapered head tubes for stiffness, a new dropout design which makes pit stops a bit more convenient, a completely redesigned stem and new shoes in the form of a higher quality wheelset.  The three original sizes (50cm, 53cm, 56cm) are now joined by 3 additional sizes (48cm, 59cm, 62cm) ensuring that there's a Cujo available for everyone.  Finally, a new, cleaner-looking fork capable of accommodating wider tires up to 32mm tires completes the makeover for this year.
We can't wait to see what our customers will come up with this year – as always, don't forget to tag us in your photos!
---