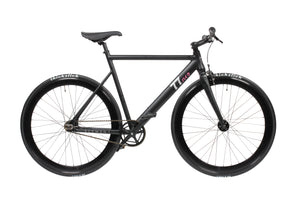 Buying guide @ JRIFIXED
HOW DO I CHOOSE WHICH BICYCLE IS RIGHT FOR ME?
One of the most important decisions you need to make when choosing a bicycle is what type of bicycle do I need? The choice can be confusing and the options are seemingly limitless.
At JRI we concentrate on just a few models that we have specialised in, that we believe will suit most urban riders and commuter cyclists. When you come into one of our stores or speak to us on the phone we will ask you a few basic questions to help us understand what type of bicycle might suit you best.
1. Why are you buying a bicycle?
2. How far will you be riding each week and where will you be riding the most?
3. How much do you want to spend on a bicycle and accessories?
WHY ARE YOU BUYING A BICYCLE?
There are many reasons we buy bicycles, to get fit, to commute to work, to ride with the family, as a second bike, for fun with friends and for specific sports events like BMX racing or mountain biking. Each reason may require a different type of bicycle and some bicycles can be used for multiple purposes. At JRI we specialise in making bicycles for people who want to get fit, commute to work, ride with the family or friends and are looking for fun bikes to get around on. We don't do highly specialised road bikes, BMX's or Mountain Bikes.
Most of our bicycles use similar frame shapes and geometry so they can be easily adapted to single speed, three speeds, vintage style cruisers or a modern commuter. They are frames designed for city or urban riding and distances of 15-50km. If you are going to be riding longer distances regularly or doing off-road riding we suggest investing in a specialist fit for purpose bicycle.
HOW FAR WILL YOU BE RIDING EACH WEEK AND WHERE WILL YOU BE RIDING MOST?
This is an important question because it will determine how many gears you need and the type of gears that you want
| | | |
| --- | --- | --- |
| | Derailleur Gears | Internal hub Gears |
| Advantages | Light weight, Lots of variability in number of gears – can vary front and rear cogs | Easy to maintain, Simple to use, Limited servicing required, harder to damage, easy to tune and repair, good range available |
| Disadvantages | Complex to maintain, Needs regular servicing, Can get damaged easily and can throw chains. | Slightly heavier, more expensive than entry level derailleur gears |
| | |
| --- | --- |
| Bike type | Type of riding or terrain most suited to |
| Single speed or fixie | Flat or fairly flat terrain, shorter rides of 7-30km. A single speed has a gear range of 100%. If you're fit and do a lot of riding then you can do much further on a single speed, but generally most people use them for shorter distances. The real beauty of single speeds is their simplicity, lighter weights and minimal servicing requirements |
| Three speed (men or womens) | Low level hills and longer rides of 10-40km. A typical three speed gear range is about 160%, similar to that of a 6 speed derailleur bike but only has the top, middle and bottom gears. It has one for flat terrain, one for hills and one for going faster. If you find that the gear range is too low or too high for you, it is easy to change the rear cog size and move the gear range up or down |
HOW MUCH DO YOU WANT TO SPEND ON A BICYCLE AND ACCESSORIES?
The question of budget is an important one. You need to think about whether you need a helmet, lock, lights and racks or baskets. All will add cost to a bicycle and whilst you can get cheap accessories when it's for important safety issues like helmets and lights, theft prevention or comfort of riding its generally best to invest in better quality items that are fit for purpose and will last longer. Good quality helmets will cost $60-$120, whilst solid locks are $40-$100 and lights vary from $40-$85. Racks and baskets can vary between $45 and $120and may include a fitting fee if they are fiddly. So you can be looking at another $200-$250 in accessories for your bicycle. These items should be factored into your budget.
---
2 comments