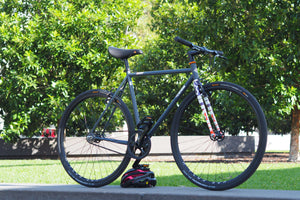 Ultimate Winter Bike? - 2018 Cinelli Tutto feat. Belt Drive
Versatility is the name of the game with Cinelli's new 2018 Tutto model.  Conceived as the replacement for the popular Cinelli Mash Work frameset, the new Tutto is pureblood Italian Cinelli and has taken the Work concept a step further. 
The original Cinelli Mash Work was arguably the favoured lovechild of the Cinelli/Mash collaboration that ended last year in 2017.  The do-anything attitude of the original design attracted a cult-like following among the street-savvy, "steel is real" crowd.  Trackbike, commuter, messenger steed and cyclocross/trail hog all fell within its extraordinarily wide design envelope and its strong performance in each of these categories established its reputation as the Swiss-army knife of single speeds.
Well fast-forward to 2018 and Cinelli has raised the stakes with the all-new Tutto with the addition of a segmented crown fork and frame cutaway access to allow a belt drive powertrain.  The new fork is slightly longer and the slight change in trail geometry is designed to improve performance when built up in cyclocross/trail mode.  The addition of a cutaway feature in the right seat stay means that the belt drive advantages of stealth and reliability are now obtainable - check out the pics for Team JRI's version of what we call the "Ultimate Winter Commuter".  
JRI pulled out all the stops to create this all-weather whip with a Gates Belt Drive, dual V-brakes, HplusSon Archetype wheels dressed in Continental's Contact Speed 700x32 tires.  This is one sick build - make it yours today and give the middle finger to Old Man Winter...iIii
Grab yourself a frame here  
---
5 comments