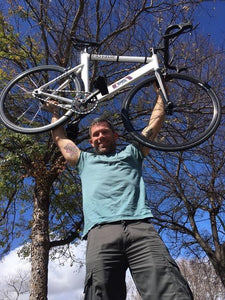 Custom T5 set for Battlefield Assault
This September Jason Ey is taking the challenge of cycling the battlefields of Europe to a new level.  The F45 gym owner, and cyclist is part of the Australian contingent this year for the Big Battlefield Bike Ride 2017, a 560km cycling tour through Western Europe organized by Help for Heroes, a UK-based organization that supports current and ex-serving members of the armed forces.  And although there will be over 200 riders in the peleton, the ex-ADF member will be the only one mashing it out on a single-speed.
Based in Vasse, WA, Jason had a custom F45 single speed built by JRI – ideal for his daily commute in the relatively flat oceanside community near Busselton in WA's Southwest.  For the Battlefield Tour, JRI modified his "street" build adding drop bars, Vittoria touring tires, upgraded JRI wheels, a Shimano freewheel, and in a fit of safety-first conservatism, a functioning rear brake. 
Like the other Aussies on the tour, Jason hopes to raise awareness and support for Mates4Mates (mates4mates.org) through fundraising and ride sponsorship.  Mates4Mates provides physical rehabilitation services, psychological and wellbeing counselling, and employment/education support for wounded, ill or injured current and ex-serving Australian Defence Forces personnel.  The ADF veteran served for 10 years, including a period in Iraq so he was keen to back the organization and its support of some of his less fortunate fellow service members.
We're totally behind Jason as he takes on this challenge, primarily in support of such a worthy cause and maybe a little bit because we just want to see him dust a bunch of roadies on his T5-based whip.  You can show your support by following him on Strava (Jason Ey) or better yet dropping a donation to Mates4Mates at www.mates4matesadventurechallenges.everydayhero.com/au/jason.
---
1 comment