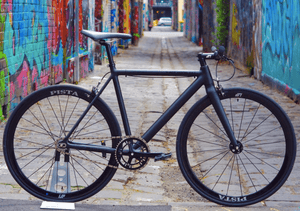 Dark Matter is on special - Limited time
It's just around the corner - what set of pipes will you be riding this Summer?
While supplies last, the JRI Team is clearing out all remaining 2017 stock… great deals on anything still in stock.  JRI's Patrol and Evolution were the hot twins of 2017 and you can get one under you for only $799, a $200 saving from the regular price.  There's only limited sizes and numbers available and they won't last long at one of the best price to performance ratios we've ever put out there.  Also on the block are the last few 6KU Tracks left in the warehouse - only available in 49cm frame sizes, these all-rounders are ideal for compact riders looking for a great deal…$499 down from $799!!!  
Since landing in Australia just a few short weeks ago, we've had amazing feedback on the JRIFixed Dark Matter as our early bird pre-summer special on this new 2018 model continues.  Customers have commented on the steady and predictable ride while still remaining responsive to rider inputs.  We've even had this beast on the track where our test rider compared it to a bobsled in how it picks up speed and maintains momentum.  As much a utilitarian study in structural engineering as a bike, this model is designed to last and to allow its pilot to dominate the ground underneath without having to challenge the laws of physics.  We'll get a countdown going on the justrideit.com.au website but the $799 sale price won't see the back half of November so order yours today!
---