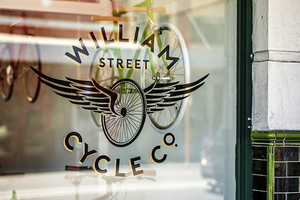 Dealer Profile: William Street Cycle Company, Perth WA
Those in the West can now check out and try JRI's products before they purchase by dropping in on the William Street Cycle Co (WSCC for short), located in Perth, Western Australia.
All of us here at Team JRI are stoked to be working with the WSCC in Northbridge, it's a cool shop in a cool part of town. Started in November 2016, the WSCC is not your average bike store - part café, part bike shop, it all contributes to what owner Marc Nesbitt wanted, a relaxing and non-threatening environment where urban travellers can check out a selective range of product offerings. The shop itself is light, spacious and airy with a café/barista located at the rear of the shop, revealing an open-air garden courtyard.
Marc sees JRI's models and track-inspired look as a more contemporary alternative to the more classic/retro-styled products he has traditionally offered. "Singlespeeds are ideal for the urban traveller, whether it be commuting or simply touring the city on a weekend ride, it's great to have a high performance offering for those cyclists looking for that kind of experience."
Check out Marc's clean and minimalist design aesthetic at http://williamstreetcycleco.com.au/jri-fixed/ or better yet, in person by dropping in for a coffee… or a bike.
---