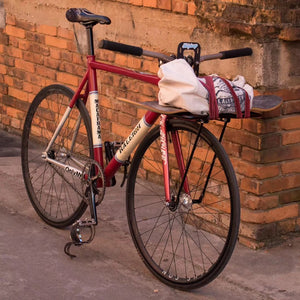 Fixed Gear Beginners Guide 2022
Hey everyone,
A big thing we do at the shop is consult people on jumping over to riding fixed gear and setting up their brand new fixed gear or single speed bikes. I thought it would be helpful to put together some of the key information for anyone out there looking at making the switch to fixed gear.
1.People are worried about keeping up with other riders or being able to ride up hills or over longer distances. What size cog and chain ring do I need? Whats a ratio?
Firstly forget about keeping up with roadies over long distances as the derailleur system is designed for maximum speed and efficiency over long distances. The counter to this is that through the city streets this becomes less and less needed as when you consider winding streets and traffic the lighter and simpler fixed gear shines, especially in terrible weather conditions. Fixed gear own urban riding practicality.
When is comes to hills its all about the ratio you run on the bike, think of it as picking your favourite road bike gear and putting it on the bike. I currently run a 48 front tooth and 19 back cog which is called 48/19 also known as 2.52 ratio by simply dividing the larger number by the smaller number. This simply means its pretty light so I can fly up hills and have great acceleration for city streets and off road, my bike is a touch heavier so I compensated with the ratio. This took three different back cogs of trial and error to get the sweet spot so buy a cheap cog initially and keep going till you find what works to the terrain you're in and what bike you have.
There is a bit of science to it but seems more daunting than it is once you get the hang of it.
2. Weight is our biggest advantage.
A cheap road bike is worse than a cheap fixed gear bike, with the road bike you will be paying primarily for the gear system leaving the rest of the bikes material being potentially not very good. In fixed gear world you can get one of the best bikes in the world for 5K  and you can pick up a cheap second hand $500 bike that would actually be pretty decent. Without those gears it means at the lower and mid range where most of us are our bikes are lighter which means a better ride.
3. Anyone can learn to maintain their own bike.
Fixed gear bikes are simple and well and truly not rocket science, get yourself a multi tool and a 15mm wrench to take off the wheels, throw in a chain breaker and cog and lock ring wrench and you pretty much have everything you need. Utilitarian design philosophy means the bikes are designed to be self sufficient, anyone can learn how to do it with a few Youtube videos.
4. Choose the bike that fits the riding and area you ride in.
As an example I just bought our Grit frame for all weather, all terrain riding but I previously has a Player frame for road riding through the city, speed and low weight.
5. Buy a good frame and decent components.
Do yourself a favour and have a minimum of $1000 saved up as you will be gaining advantages in the bikes materials and production quality as well as massive weight saving advantages which will effect the enjoyment of the right. My current set up is perfectly dialed in for me and does exactly what I need it to be as an all weather commuter and is stable on the road with 35C tyres.
We offer the grit complete for $1690 and the Player Complete for $1250
You can book in a bike consult with me directly on our homepage under Bike Consult and we can go through everything from start to finish to find the exact bike that will suit your needs and help you to fine tune it to your specifications.
Get in touch, always happy to help.
Ryan
---
1 comment