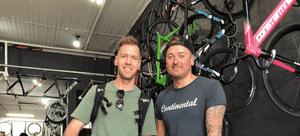 Formula 1 Ace Chooses Australian...
Melbourne is a city that can hold a treasure trove of experiences. From character-filled laneways to every cuisine from every culture to world-class sporting events, the city literally can offer something that will appeal to everyone. So, it should come as no surprise if you find yourself sharing a bike lane or city street with 4-time F1 Championship Winner Sebastian Vettel the next time you pull up to an intersection in the Melbourne CBD.
During last year's 2017 Australian F1 GP, Mr.Vettel popped into JRI HQ while having a bit of a wander on Brunswick Street through iconic Fitzroy. Of course, he couldn't leave us without taking a small memento of his visit in the form of a JRI flatbar singlespeed ostensibly to get around the Albert Park F1 paddock but possibly to mash the midnight streets of our fair city, the charm of said activity irresistible to both urban commandos and wheeled vehicle operators of mythological ability alike. A year having passed and Mr.Vettel, having had some time to secretly hone his urban cycling skills contacted JRI Head Designer Steve Atkinson in February with a mandate: build him a custom bike with an unmistakable identity. Thus was born the Vettel Custom Build.
Featuring a distinct teutonic tricolor statement as efficient as #5s driving style, the Vettel custom build was based on one of JRI's very own low pro aluminium framesets. The build also showcases a JRI custom carbon fork, JRI's new Pista track wheels and SRAM Omnium cranks mated with another Fitzroy original, Bespoke Chainring's Drillium big ring powers the drivetrain.
In town again for this year's Australian GP, Mr.Vettel popped into the store during Race Week to pick up his 7kg creation and spend some time in the shop, his spontaneous presence a sweat gland-activating surprise to customers and window shoppers alike. Prior to winning his 3rd Australian Grand Prix last week, Mr.Vettel made full use of his new wheels both in the city and at the Albert Park F1 event site turning heads as much with his aggressive riding style as the bike's attention-grabbing graphics treatment.
We're stoked to have been involved in the creation of such a cool collaboration with a seriously righteous (and fast) dude. Thanks for choosing JRI Sebastian and good luck at Bahrain in April and the rest of this year!
https://www.reddit.com/r/formula1/comments/8vpays/birthday_boy_vettel_chills_out_on_a_bicycle/ 
---