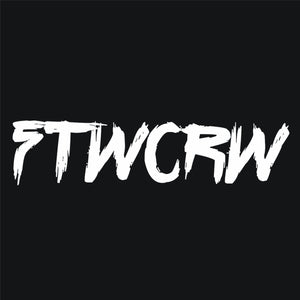 FTWCRW Launch Night
On a Saturday in early August, the JRI crew brought some warmth to what's been a cool, damp Melbourne winter by hosting the FTWCRW Apparel Launch Party.  About 25 riders competing in the FTW LaunchCat Alley Cat were welcomed to a warm reception in Fitzroy hosted by FTWRW, Temple Brewing, and Constantine Bicycles.  Brunswick Street onlookers and passerby were attracted to the raw yet inclusive atmosphere and the energy kicked up a level when DJIced took over the decks with his tribal House vibe, treating the growing crowd to a unique and complementary soundscape to the visual display of FTW videos being projected onto the graffiti-covered walls of the JRI venue. 
Proceedings were punctuated briefly by FTW founder Derek Rebel welcoming attendees with a few words as he introduced the new apparel line before announcing the winner of the Alleycat (congratulations to Issy M).   Polite applause, looks of envy, and thirsty impatience quickly dissolved as the party vibe continued interrupted only by the odd and spontaneous (eg. flower print banana seats, fixed gear freestyle between Brunswick St. trams).  Thanks to everyone who was able to attend for making the event such an enjoyable and memorable evening.
If you haven't yet heard of them, FTWCRW is an Australian non-profit riding collective from Perth and Melbourne.  Sponsored by Constantine Bicycles, FTWCRW runs events and creates products that supports a passion for riding not only fixed gear bicycles but bicycles of all kinds.  Check them out on Facebook or better yet, some of their sick videos on Youtube.
---