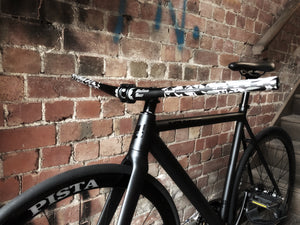 Introducing The Baton bar - Only $49.90!
Raising The Bar
Heading into Spring this year, there's a bit of a buzz in the shop with the introduction of some new products that the the team at JRI have been developing over the winter.  We'll be dropping a number of product profiles here in the coming days as considerable development has gone into each of these new additions to the JRI line, each one deserving of some insight into their developmental backstories. 

Raising the Bar
No one following the fixed gear space can escape the proliferation and instagram bombardment of wide flatbar imagery over the last year.  To many they provide a pragmatic compromise to the ubiquitous riser bars so commonly found on fixed gear street bikes, to the Team at JRI they provide the answer to a centuries-old anthropological puzzle that has plagued humanity since the dawn of civilization – how do you carry slabs of beer while riding a bicycle?   The wide flatbar provides a stable platform where one can safely and securely position legally-acquired cradle milk crates, small children and yes Virginia, cartons of beer between one's arms.  
Limited only by one's wingspan, flatbar width (and the corresponding cargo load) has no bounds however the propeller-heads at the JRI design centre concluded after a lengthy research process that a bar width between 70-80cm provides the ideal compromise of cargo load, accessory placement and rider comfort for most humans…a hacksaw can adequately address the needs of the fairer sex and the freakishly short.  Sharing the DNA of its downhill mountain bike ancestors, the new JRI Baton Bar features triple-butted 6061 aluminium tubing for weight savings without compromising strength (rare in a handlebar), shaped with a subtle 12mm rise mated to a 9degree back sweep, all wrapped in a powder-coat and JRI's new UDP (Urban Disruptive Pattern) graphic.  
The Baton Bar geometry impressed test riders with it's versatility allowing for everything from a stable/neutral terrain floater setup to an aggressive urban midnight mashing position depending on the stem setup.  Practical, comfortable, and loaded with mult-iuse versatility, I'll take two and keep one for home security.
---