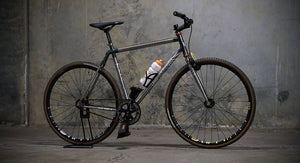 Is this the ultimate gravel bike? Why I bought one for my Birthday and why you should too
The Grit frame reminds me of something a Japanese Samurai Era blacksmith would build if they were to build a bike, it looks like a Katana in bike form, an artisan build where great care has been given with the hand tig welding, overall design and finish of the bike.
One extremely stormy morning on the way to work on my aluminum/carbon set up I didn't feel stable enough for the torrential conditions I was faced with. After a previous accident on the wet tram tracks where it was suspected I had broken both my kneecaps, I decided I wanted to switch to a more robust, all weather, stable and more relaxed riding position that could literally handle any terrain and any weather that was thrown at me, especially considering I don't own and car and rely on my bike every day so utility and safety are crucial.
This year for my Birthday I chose to buy myself a 10th anniversary Grit Complete package for $1699 and trade in/sell my very expensive aluminium/carbon track bike.
The Grit was a bit of a slow burn for me as it has grown on me over time, you have to ride it to fully understand it. I think this is due to its uniqueness in terms of frame design and looks, it offers a blend of artistry and robustness as well as unparalleled utility by being able to hold tyres up to 50C and being able to handle any terrain including off-road.
From the slanted top tube to the top tube that goes through the seat tube for extra reinforcement and the raw weld burns with double clear coat and high grade Chromoly steel not to mention the beautiful lugged forks. This is a special one of a kind bike built in conjunction with the elite Taiwanese company 77 Bikes.
On the Grit I have wanted to explore Melbourne more and just enjoy riding again, I am reminded of when I used to ride my BMX around the suburbs and explore as a kid, the feeling of true freedom of movement and simplicity, it is a special and nostalgic experience.
This bike eats everything you can throw at it, so much so I decided to ride through the severe storm last night and not only did I get home in one piece, I had a big smile on my face when I got there.
If you only ride one bike for the rest of your life, make it this one. Definitely the best Birthday present I could of given myself.
---