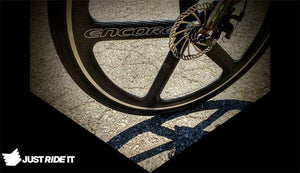 New Encore Wheels
Imagine we lived in a world where everyone had an attitude that things are good enough and people accepted just ok? We would still be watching snooker on a miniscule, portable, black & white T.V. sets, searching through AOL at dial-up speeds and JRI would have just have launched a new line in penny-farthings just to name a few. Fortunately, however we live in a society where consumers demand more and as a population we actively push the boundaries in what is achievable.
At JRI we certainly look to excel and are constantly searching the globe for ways to improve on the product range we supply to our ever expanding customer base. To illustrate this JRI are about to launch a brand new range of Encore fixed gear wheels all the way from the U.S of A which are sure to turn some heads around Australia's real capital city. 
Born utilising cutting-edge computer technology and the unequaled experience of American craftsmen who have been designing and manufacturing carbon-composite wheels since 1988. Encore have raised the bar and taken the next step in the evolution of the wheel. Combining proven manufacturing techniques and decades of experience along with a customer-centric approach providing an unmatched experience from purchase to purpose.
They have not reinvented the wheel. (A wheel has to be round and rotate from a central pivot, not really much wiggle room for alterations to the basic concept). What they have done instead is vastly improve on what the market currently offers and made their wheels stronger, faster, more affordable, sleeker and more durable. They are also fully customizable, available in just about every colour visible to the human eye and look incredible.
So what are you waiting for? Get your pre-order in now and don't miss out on this fantastic opportunity to be a true trend setter in the world of fixed gear riding. Pre-orders are currently receiving a $200 discount from the RRP so best get in quick to avoid disappointment. Pre-order is finishing soon so get involved now:  www.justrideit.com.au/products/pre-order-encore-wheels
https://join.booking.com/r/d/f8972a5f?lang=en-gb&p=4
Keep an eye out for Stiffi Wheels coming soon - Stiffiwheels.com 
https://join.booking.com/r/d/f8972a5f?lang=en-gb&p=4
---
1 comment