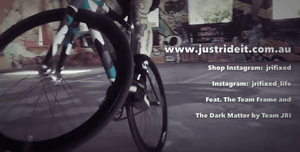 New Video! The Test Ride
Featuring the new 2018 DarkMatter and Team Frame by JRI,  "the Test Ride" is now up on the JustRideIt YouTube channel.  Check out the new frames and some sick riding courtesy of JRI-sponsored team rider Rob (Instagram: eightyxproof) and local Fitzroy gun Finn (Instagram: week.away) as they put the new framesets through their paces.
Shot entirely on location in Fitzroy, Victoria (JRI's very own 'hood) and including guest appearances by Melbourne's ubiquitous and opinion-polarizing O-Bikes, the new video was inspired by some fantastic early summer weather in December and shot spontaneously on a single Saturday afternoon.  It showcases the unencumbered freedom and simplicity of fixed gear freestyle, and the simple joys of blasting around your favourite urban playground.  The JRI film crew had to perform some impromptu traffic management and prop acquisition in order to capture all the action - check it out for a little slice of manic pie…
…or better yet, grab one of our bikes and create your own soundtrack in your neighbourhood !ii!
---