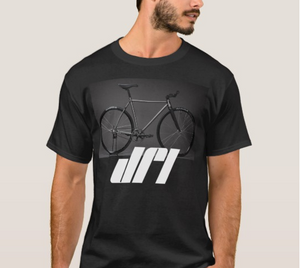 The Cujo Exposed blurrrb and Custom T's
Product Spotlight: Cujo Exposed 2019 This month we take a closer look at the Cujo Exposed, the latest and greateset development of JRI's runaway Cujo streetbike. By way of a quick background, JRI's original 2017 Cujo design originally began life with the simple mandate of delivering the convenience and value of a traditional steel fixie with the reliability and ridability of higher-end track designs.
JRI's designers achieved this by retaining the one component of the traditional "fixie" least likely to fail – the frameset. Some voodoo from the design studio resulted in the sharp handling that only a modern track geometry can provide. Finally, mating this planform with quality, alloy running gear resulted in a sharp-handling, reliable beast that punches way above its $599 price tag. For 2019, designers wanted to offer a boutique version of the Cujo – sharper cosmetics and an improved component spec were the main design objectives.
JRI's propeller-heads were able to achieve this by applying an industrial, raw steel finish to create a modern, utilitarian aesthetic and upgrading the wheelset to JRI's newest wheelset – low/mid profile rims accented with hi-polish spokes and hubs. These new wheels run faster and lighter than the previous Pista-series and they're only available on this Cujo Exposed model. Paradoxically, the unique finishing process for the frameset requires a higher cosmetic grade of tubing than the other Cujos despite the lack of paint – the tubeset must be of a quality suitable for blueing and clearcoating.
The result of an extra $100 over the stock Cujo Pro model is a slick and pimpin' custom look ideal for every occasion from the zombie apocalypse to redneck country weddings. Go naked! Have a perv at the Cujo Exposed today!
---
6 comments