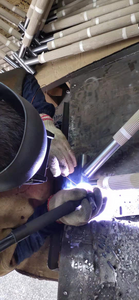 We are 10 in December!
Did you know we are turning 10 years old this December?

And we've decided to do something special with everything we've learned
over the years about building custom bikes. We wanted to create a frame that could be used reliably on a daily basis AND a frame that you'd want to use and use and use because it performs AND is a joy to ride. A frame that just makes sense...a frame that takes a beating and laughs back at you and your amusing attempts to push it... a frame that asks for more of you as a rider even as it ridicules your efforts to max it out.

Nothing great is created overnight. It take time and experience...it takes what we've learned over the last 10 years as the first and largest single speed shop in the Southern Hemisphere. This one took a while but it shows in the result.

Like many of us bike-riding nuts, we have a vast array of bikes including a weekend MTB, a road bike to ride to that furthest coffee shop, a track bike to go hard on, and of course a pub bike for when we're not at our best and it's just about completing the mission.

We've selected the most comfortable frame tubes available. Rather than that ancient, tip-bound rickety aluminium ladder that haunts your shed, think back to that favourite barstool you and your mates would take the big risks on in pursuit of the high stakes "spin master of the world" title. Now you're getting it...

If we want fat tyres, we want to be able to mount fat tyres on our daily bike...even if we want to keep the simplicity of a single speed. Comfortable geo that is agile enough to freestyle and steady enough take on the gravel when you want to get away from it all.
She comes in 3 sizes set to please the most - Will you put your trust in us and grab a part of history 
Frame Kit RRP when landed in Late Aug/ Early Sept will be $1099 + 
Frame kit to include FSA headset & Fork + Seat collar 
---